If you're wondering what's free to do in Philadelphia today then you'll enjoy my list of free things to do in Philadelphia. Each of these ideas I'm featuring today will help you have a fun-filled day in this beautiful city. Whether you live here or traveling to Philadelphia soon, I'm confident this will be the resource you need to find the best free things to do in Philadelphia. Thanks to Reedman Toll Chrysler Dodge Jeep Ram for sponsoring this list of Things to Do in Philadelphia for free.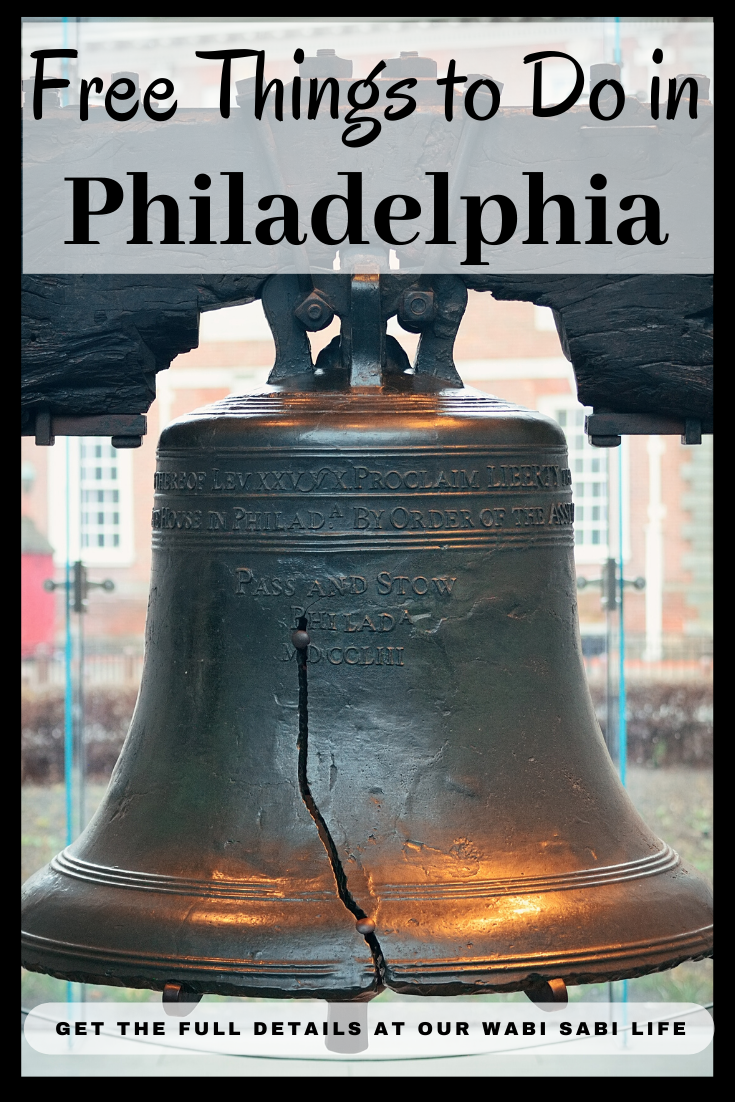 Free Things to do in Philadelphia
There is no shortage of things to do in Philadelphia. But when you are trying to find things to do that do not break your budget, you need a list of free things to do. With this list of things to do in Philadelphia for free, you can save your money for more expensive things to do, and not leave yourself with nothing to do.
Liberty Bell Center
Enjoy learning more about the facts and myths of our nation's most famous bell. With many historical artifacts, you'll enjoy visiting the Liberty Bell Center during your time in Philadelphia. This mostly copper bell also provides a fun photo opportunity during your visit here.
The Rocky Statue and the Rocky Steps
Take a photo near the Rocky Statue and run up the Rocky Steps as you enjoy the spectacular view of the Philadelphia skyline. This statue was originally commissioned for Rocky 3 and now stands as beautiful artwork in Philadelphia that tourists frequently flock to.
Valley Forge National Historical Park
Step onto a piece of history at this free thing to do in Philadelphia. This is the site of the 1777-78 winter encampment of General George Washington and the Continental Army. There are many things to explore the park and enjoyed most by those who love a glimpse into our nation's history.
Blue Cross RiverRink Summerfest and Winterfest
This is a fun pop-up village the features an open-air skating rink, fire pits, twinkling lights, and a variety of food and beverages. While you can visit here for free to enjoy most of what this pop-up village offers, you will have to spend money if you opt to eat here.
Once Upon a Nation Storytelling Benches
During the warmer months, you can pause to enjoy some "once upon a nation" storytelling fun. There are 13 total benches in Philadelphia that kids and adults alike can enjoy as one of the best free things to do in Philadelphia.
Schuylkill Banks and Schuylkill Banks Boardwalk
This 2,000-foot long pathway is a highly popular destination for anyone seeking out free things to do in Philadelphia. You can literally walk over the river while enjoying some spectacular skyline views of Philadelphia.
These are just some of the more popular free things to do in Philadelphia. Whether you live here and want to spend a day being a tourist in your hometown or are planning a trip to Philadelphia, each of these ideas will give you something fun to enjoy in this lovely city.