I received a copy of Easy Everyday Slow Cooker Recipes for review. All thoughts are my own.
With life being crazy busy in my house, my slow cooker is seriously my best friend. I use it at least once a week, but sometimes I get sick of making the same old same old recipes. While many of my recipes could easily be made into a slow cooker recipe,  but some recipes definitely do better than others.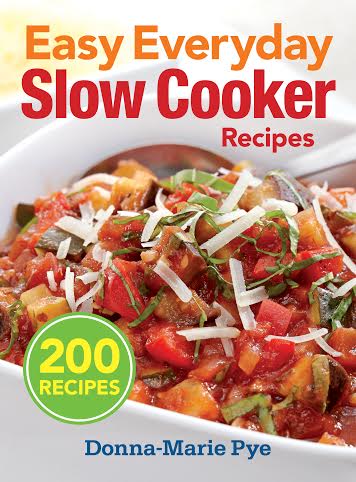 When I started looking into the recipes that are featured in the Easy Everyday Slow Cooker Recipes book, I was happy to see some were ones that I have never tried before and others were a yummy twist on things you already think of when you think of slow cooker recipes.
There are the traditional soups and stews, chilis and beans. There are also poultry recipes, beef and veal and pork and lamb. But what I love that there are sections for Big Batch dinners for a crowd because my family is already big but when you add in any of my extended family it is gigantic and I love to use the slow cooker so that I can spend more time hanging out and chatting and not cooking in the kitchen. But on the flip side of that, sometimes there are recipes that only my son Joey and I would enjoy and this recipe book offers meals for 2 so there is no wasted food.  There are also Double Duty dinners and of course, my favorite, desserts.
One of those twists on a classic that I mentioned is the Holy Mole Chili. I make chili in my slow cooker all the time, but I love the idea of this twist. It features a mole sauce and if you have never made anything with Mole, I highly recommend giving it a try.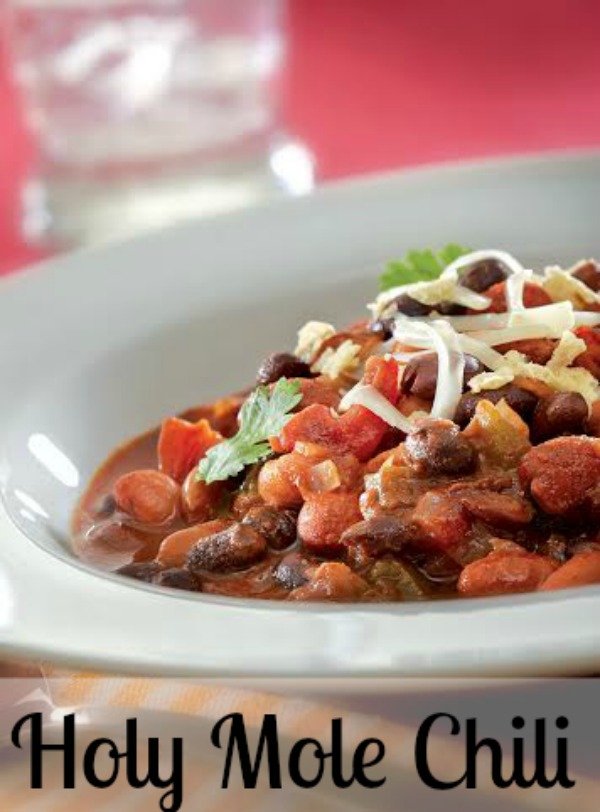 Holy Mole Chili, page 86, vegetarian
Courtesy of Easy Everyday Slow Cooker Recipes by Donna-Marie Pye, 2014 © www.robertrose.ca Reprinted with publisher permission. Available where books are sold.
Makes 4 to 6 servings
With its notes of cumin, cinnamon and chocolate playing off the gentle spices, this meatless chili combines the best of a mole sauce and a Cincinnati-style chili. Its rich body makes it a seriously satisfying dinner any night of the week.
•    Minimum 4-quart slow cooker
4    cloves garlic, minced
1    large green bell pepper, diced
1    onion, finely chopped
1    can (19 oz/540 mL) diced tomatoes, with juice
1    can (14 oz/398 mL) baked beans in tomato sauce
2 cups cooked or canned romano or pinto beans    500 mL
(see page 84), drained and rinsed
2 cups cooked or canned black beans  500 mL
(see page 84), drained and rinsed
1 tbsp chili powder  15 mL
2 tsp ground cumin    10 mL
2 tsp ground coriander    10 mL
1⁄4 cup  mole paste (see tip, below)    60 mL
1⁄2 cup vegetable or chicken broth    125 mL
Crushed tortilla chips, chopped fresh cilantro, shredded Cheddar cheese (optional)
1.    In slow cooker stoneware, combine garlic, green pepper, onion, tomatoes with juice, beans in tomato sauce, romano beans, black beans, chili powder, cumin and coriander.
2.    In a bowl, combine mole paste and broth. Using a fork, gently stir together into a thin sauce. Stir into bean mixture.
3.    Cover and cook on Low for 5 to 6 hours or on High for 21⁄2 to 3 hours, until vegetables are tender and chili is bubbling. Serve topped with tortilla chips, cilantro and cheese (if using).
Make Ahead
This dish can be assembled up to 12 hours in advance. Prepare through step 2, cover and refrigerate overnight. The next day, place stoneware in slow cooker and proceed with step 3.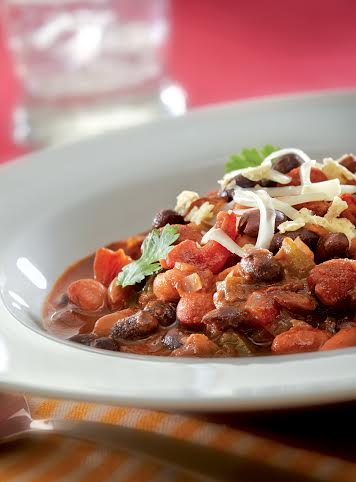 Tip
If you can't find mole paste, substitute 1 tbsp (15 mL) unsweetened cocoa powder and 1⁄2 tsp (2 mL) ground cinnamon.
Do you use slow cooker often? Are you always looking for a great new dinner idea that can be made easily?