I received The Complete Coconut Cookbook for review. All thoughts are my own.
Coconut is used all over these days. Something that I use to only think of as a treat or in desserts, is not used for a lot of things. It is used as an oil, as milk and even coconut butter and nectar. That is because coconut has a smooth, creamy texture and offers many health and nutrition benefits.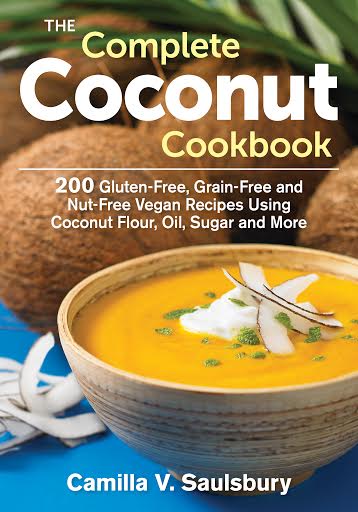 While so many people understand that coconut offers amazing benefits, that doesn't mean they know what to do with it in the kitchen other than topping a cake. This is where The Complete Coconut Cookbook comes in. The cookbook contains 200 innovative coconut recipes that cover a broad spectrum of fresh flavors and provide delicious and dependable results. Plus all of the recipes are gluten free, grain free and nut free.
In the beginning of the book, the first few pages explain the science of coconut as a health food with user-friendly nutrition information and in-depth "how-to" tips for each coconut product.
With so many delicious recipes, it was hard to decide which one I should share with you, but I finally decided on Vanilla Coconut Baked Donuts. Think about it. A healthier way to enjoy donuts. Come on, you know you want to try that.
Vanilla Coconut Baked Doughnuts
Featured on page 110, breads
Few things beat a warm, fresh doughnut, and these are no exception.
Makes 12 doughnuts
Preheat oven to 375°F (190°C)
6-count doughnut pan, greased with coconut oil
Doughnuts
1⁄2 cup    chickpea flour
1⁄4 cup    coconut flour
1 tbsp    potato starch
2 tsp    gluten-free baking powder
1⁄4 tsp    fine sea salt
1⁄2 cup    coconut sugar
2 tbsp    psyllium husk
2⁄3 cup    well-stirred coconut milk  (full-fat)
1⁄4 cup    coconut water or water
2 tbsp    melted virgin coconut oil
2 tsp    gluten-free vanilla extract
Icing
1⁄3 cup    coconut butter (store-bought)
1 tbsp    coconut nectar
1⁄2 tsp    gluten-free vanilla extract
Doughnuts: In a medium bowl, whisk together chickpea flour, coconut flour, potato starch, baking powder and salt.
In a small bowl, whisk together coconut sugar, psyllium, coconut milk, coconut water, coconut oil and vanilla until well blended. Let stand for 5 minutes to thicken.
Add the coconut milk mixture to the flour mixture and stir until well blended.
Divide half the batter equally among prepared doughnut forms (they should be about half full).
Bake in preheated oven for 12 to 17 minutes or until doughnuts are golden and spring back when lightly touched. Let cool in pan on a wire rack for 2 minutes, then transfer to the rack.
Regrease the pan and repeat steps 4 and 5 with the remaining batter.
Icing: In a small saucepan set over low heat, melt coconut butter with coconut nectar. Remove from heat and stir in vanilla. Drizzle or spread over doughnuts. Let cool completely.
Tips
The doughnuts may also be prepared in two batches in a 12-count mini doughnut pan. Prepare as directed, baking mini doughnuts for 5 to 9 minutes.
If you don't own a doughnut pan, you can prepare the batter in a regular or mini muffin pan. For a regular muffin pan, grease 6 cups with coconut oil, fill with batter and bake for 11 to 14 minutes or until a toothpick inserted in the center comes out clean. For a mini muffin pan, grease 12 cups with coconut oil, fill with batter and bake for 7 to 10 minutes or until a toothpick inserted in the center comes out clean.
Do you use a lot of coconut?