My grandmother loves cream puffs. Since she has gotten older and can not cook for herself anymore, she doesn't get them. My mom, her care giver, will not make them. My mom is a brownies from a box kind of baker and even those often times end up tough, dense or burned.  So a recipe like cream puffs, she is just not interested in taking on.
It isn't that this cream puff recipe is hard, it is pretty easy actually. But it does have a lot of steps and takes some time to do. That is where my mom loses interest.
We had a get together recently and I wanted to do something special for my Grandmom. I whipped up a batch of her cream puffs. She likes her cream puffs with a chocolate icing on top, but I know that some people do their cream puffs without the icing and just powdered sugar. I like my grandmom's way, with the icing. It adds more flavor.
Cream Puff Recipe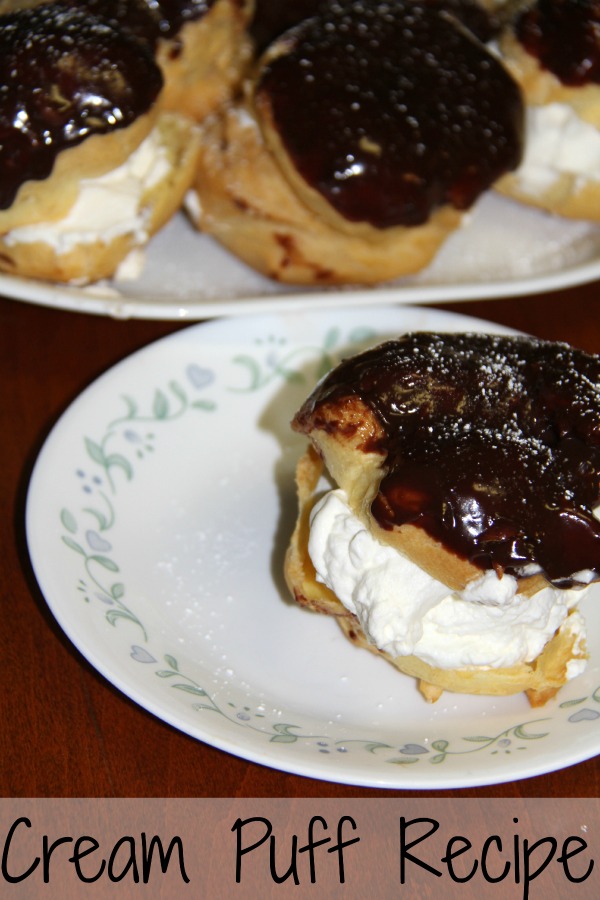 Ingredients:
Cream Puff Shell:
1 cup of water
1/2 cup of butter
1/4 teaspoon salt
1 1/4 cup flour
4 egg
Cream puff filling/ whipped cream
1 pint heavy cream
1/4 cup sugar
1 teaspoon vanilla extract
Chocolate Icing
1 cup chocolate, I use chocolate chips
1/2 cup heavy cream
Preheat the oven to 425.
In a sauce pan, combine the water, butter and salt. Bring to a rapid boil.
Remove from the heat and add in the flour. Stir it in it. Then put it back on the burner. Stirring and cooking until all of the mixture is combined and going around with the spoon.
Remove from the heat and let it cool until it is still warm but able to be touched. About 5-10 minutes.
Using a mixer, add in one egg at a time.
Once all the eggs are added, beat for 3 minutes.
Using a spoon, drop the batter onto a lined or greased cookie sheet. The batter will make 12 puffs.
Bake for 15 minutes, then reduce to 350°F and bake for 25 minutes longer.
When the cream puffs are golden brown, remove from the oven and add a small slit into the tops of each one, then put them back in the oven for 5 more minutes.
When they are done baking and cool enough to handle, slice the tops off each cream puff.
This is where I dip my tops in the the icing, or get ready to fill if I am not adding icing.
Fill each bottom with a large dollop of whipped cream and add the tops back on. If using icing, let the icing set then add a dusting of powdered sugar on top.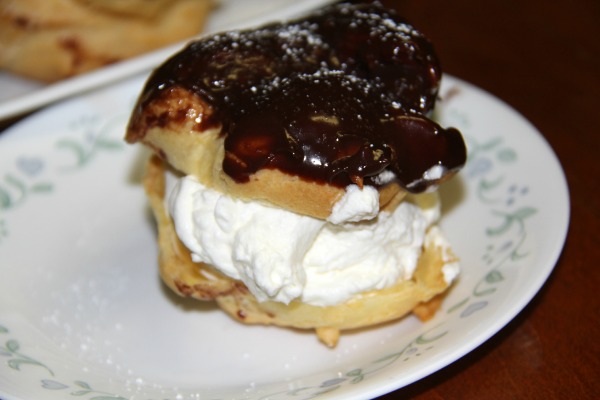 Making the whipped cream
Pour the cream into a cold mixing bowl
Whip it on high speed
Add in the the sugar slowly.
Whip until stiff, but do not to over-whip.
Making the Icing
Add the chocolate in a bowl.
Microwave for 30 seconds at a time, stirring between each set.
Once the chocolate has melted, add in the cream, stirring well.