I received some of the items below in exchange for sharing them with my readers. All thoughts are my own.
So what does this mom of 4 carry around with her as I am running from the park, to the store, to the lake, and everywhere else we go?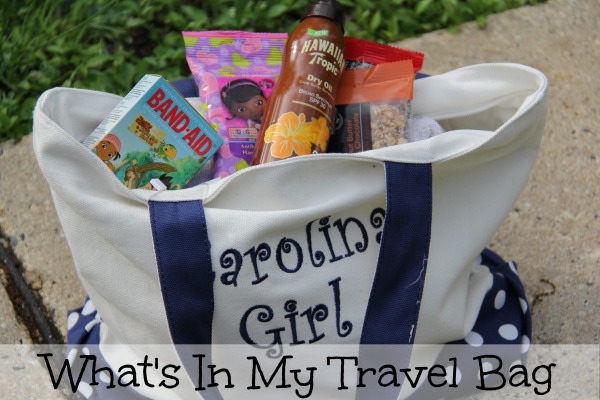 1. Snacks. I try to always have snacks with us. My kids are forever hungry and if I bought something to eat every time someone wanted something to eat I'd be broke. Or more accurate, we'd never go anywhere.
2.Wipes. My kids are always getting dirty. It comes with being outside. And since I already said my children want to eat all the time, I need a way to clean them up.
3. Bandages, antiseptic cream, and medicine. My kids are little dare devils and they are very accident prone, so almost every outing includes some scrape that needs attending to. But they also have awful allergies, and headaches so it isn't surprising that often times we need something for that. I hate to be caught unprepared.
4. Bug Spray. Not right now, but as the summer goes on, the mosquitos get really bad. And with the threat of the West Nile Virus being found every year in my area, and also lots of ticks that carry Lyme Disease. I want to make sure the kids are protected.
5. Sunscreen. Sunscreen is so important. For years I only looked at sunscreen as a way to not get sunburn. On those bright sunny days I would remember to put sunscreen on my kids but it was still for fear of sunburn. Over the past few years, I am learning just how dangerous it can be for anyone to not wear sunscreen, all the time when outside. My step father was diagnosed with small melanoma patches that they had to cut away. I also fell in love with the Showtime series The Big C. The ending was so emotional and devastating. It was a real eye opener for me.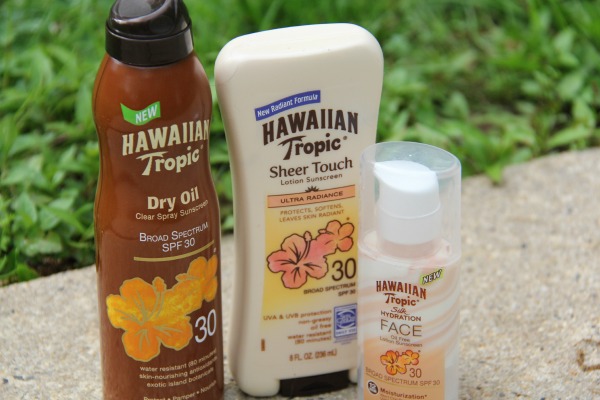 Hawaiian Tropic heard all of the complaints that people had with sunscreen and they made adjustments. There is a sunscreen to make everyone happy. They have a Dry Oil spray, a non greasy, oil free lotion that leave skin soft when it is protecting, and a 12 hour Silk Hydration Facial sunscreen that will not clog pores. And since they are from Hawaiian Tropics they have that beachy tanning oil smell instead of a sunscreen smell.
What are the essentials in your on the run or travel bag?