One of our favorite things this time of year is to take the kids to see Santa. We try to visit as often as possible. My kids have grown up knowing that the Santas we see are Santa's helpers (it helps to explain why all of the Santas look different) and they love to tell each Santa something different for Christmas. Or just to get the chance to say cheese with Santa. I don't pay to see Santa.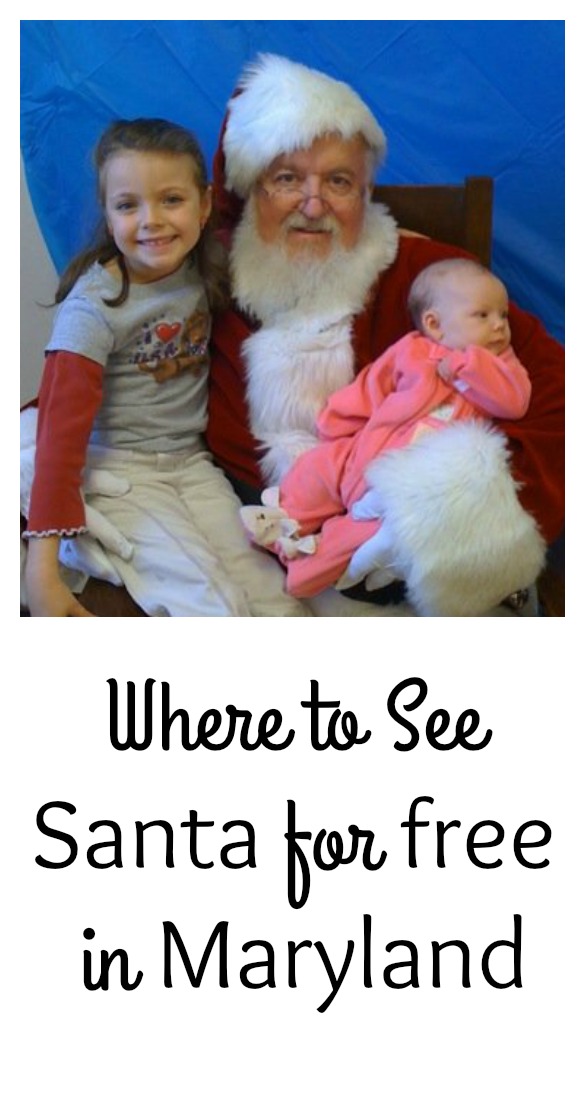 So if you live in South Maryland, where can you see Santa, for free?
Annual Thompson Automotive of Hartford County Breakfast with Santa. On December 3rd, visit the Thompson Toyota, with an unwrapped toy and enjoy breakfast with Santa. Be sure to check the Thompson Chrysler Jeep for details and reservations.
Denton Holiday Parade and Lighting of the Green: On December 1st, start off the holiday season with the best of the season, including marching bands and of course Santa. After the parade, watch the lights be turned on at the Courthouse Green and see a musical performance.
Bethesda's Winter Wonderland on December 3rd. The holiday season starts off with live ice sculpting and holiday performances. Of course, Santa will be there. Enjoy the day at Bethesda's Veterans Park from 1-4pm.
The Annual Town of Bel Air Christmas Celebration, on December 6th, will have a grand celebration. Featuring stilt walkers, acrobats and local high school performances from marching bands, characters and mascots, beauty queens and dance troops, floats and even some musical groups, the parade will end with the Living Christmas Tree and of course, Mr and Mrs. Claus.
Christmas in St. Michaels takes place December 11-19th with lots of free events, as well as ticketed events. Enjoy the Tour of Homes, a Holiday Gala, Breakfast with Santa and one of the largest Holiday Parades on the Eastern Shores.
I am sure there are many more chance to see Santa, but here are a few to get you started. Enjoy the holiday season.