When I was little, I was a brownie and I used to sell Girl Scout cookies. I remember being that little kid standing outside the store asking people to buy the cookies. Every year my mom would buy a case of cookies just for us. While these days my favorites are the Tagalongs, back then I was all about the Samoas. Oh man, those coconut, caramel and chocolate cookies were the best. I still love that flavor combination. Samoa Monkey Bread has all the yumminess of the Samoa cookies and the fun of monkey bread desserts.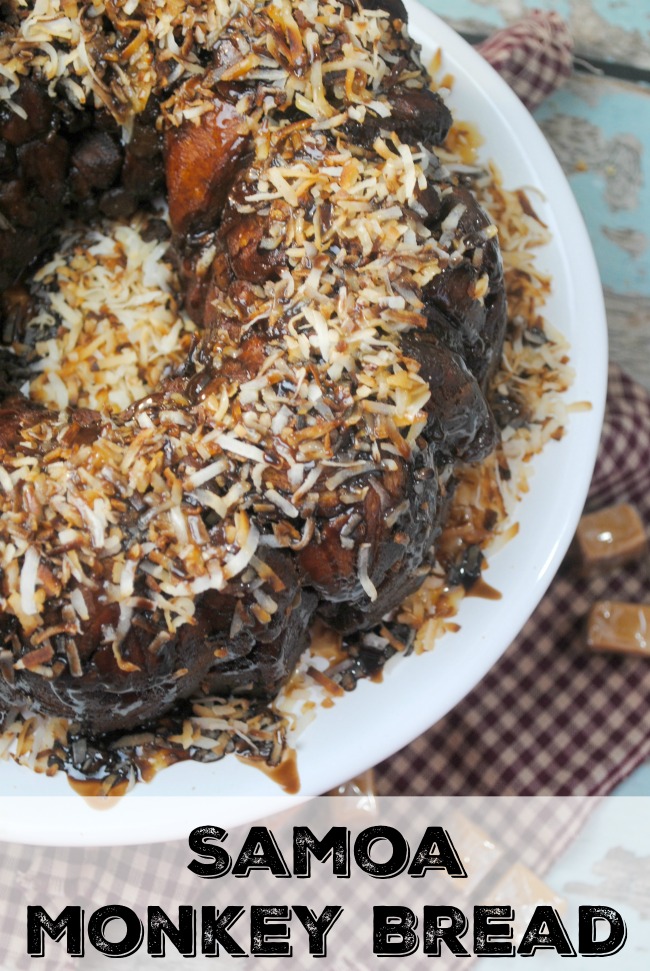 Samoa Monkey Bread
Ingredients
2 Cans of Pillsbury biscuits
1/2 C sugar
4 TBS Hershey cocoa baking powder
1/2 C unsalted sweet cream butter, melted + 2 TBS butter softened butter for roasting coconut
1 large egg
3/4 C brown sugar, packed
1/2 tsp vanilla
1/4 tsp sea salt
1/2 C chocolate chips
1/2 C sweetened shredded coconuts
Plastic bag for coating the biscuit pieces
Chocolate sauce to drizzle
Directions:
Preheat oven to 350 degrees and coat bundt cake pan with cooking spray. Set aside.
Cut the biscuit into 8 pieces and place aside.
In a small bowl, combine the sugar and the cocoa and mix.
Once mixed, add into the plastic bag as well as the biscuits. Shake bag until all pieces are coated.
In a small bowl, combine the brown sugar, egg, vanilla and melted butter. Mix until combined.
Take half of the coated biscuits and place them into the bundt pan. Sprinkle half of the chocolate chips onto the biscuits and pour half of the butter mixture.
Repeat the same step with the rest of the biscuits, butter and chocolate chips.
Bake in the oven for 40 minutes. If you use one of bundt pans that has the removable inside, use foil under the pan.
While the monkey bread is baking, in a small pan. melt the 2 tbs of butter and pour in the coconut.
Using a spatula, brown up the coconut and then pull aside to cool.
When the timer goes off, pull it out. The center will still be jiggly.
Let sit for 5 minutes before place the serving plate on top of the pan and flipping the pan.
Lightly tap the sides of the pan to loosen the monkey bread.
Once the monkey bread is out and onto the place. drizzle chocolate sauce and sprinkle the roasted coconut on top.
Enjoy!