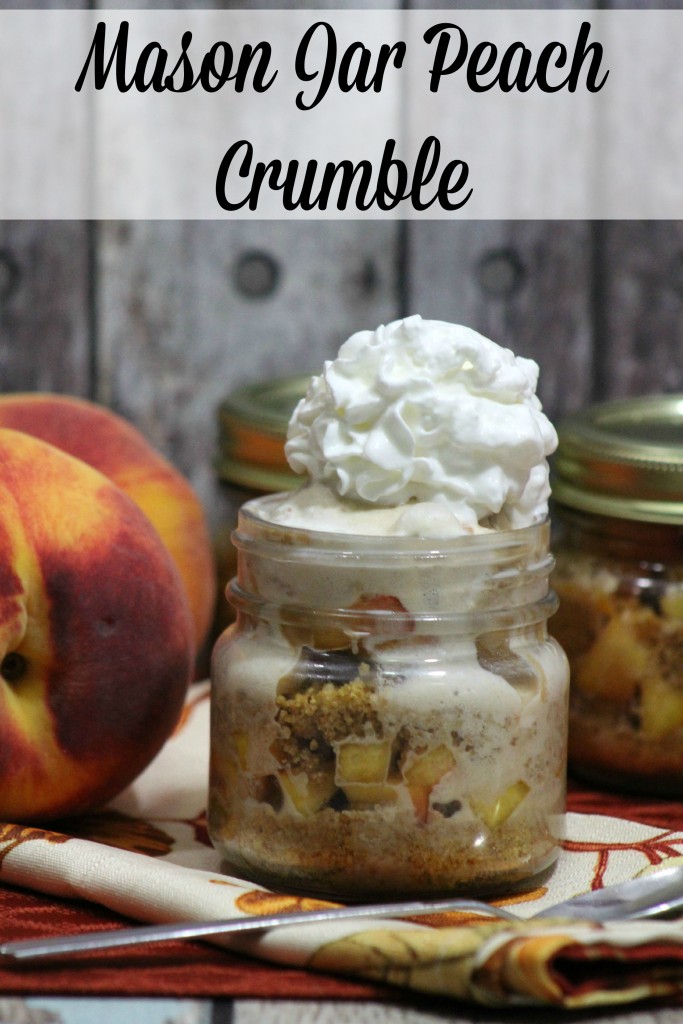 Mason Jar Peach Crumble
There are so many cute crafts out there that use mason jars. This Mason jar peach crumble recipe is a delicious and practical use of the container. These look so great in the Mason jars; all the ooey gooey peaches and crunchy crumbles, the clear Mason jar shows off the great textures of this dish. The country chic appeal of the Mason jars would also make them perfect for a fall party! The great thing about this recipe is that it's one container from the kitchen to the table. No need to find a serving platter or dish because they look so delicious and adorable in the mason jars! Of course you could make these in almost any container and they would still be wonderful. Serve them warm or cold, perfect for making ahead to take to a party. Make that at home for a fun weeknight dessert; as the weather gets cooler there's nothing better than warm, juicy peaches, with savory crumbles, and melting ice cream, it's the perfect dessert!
Peach Crumble Ingredients: 
4 large fresh peaches, pitted and cubed
1 TBSP unsalted butter, cut into cubes
1 TBSP dark brown sugar
1/3 tsp cinnamon
1/4 tsp nutmeg
Crumble Ingredients:
1/2 C whole wheat flour
1/4 C dark brown sugar
1/4 C uncooked oats
2 TBSP of unsalted butter, cubed
Peach Crumble Directions: 
Melt butter in a skillet on low temp.
Mix together the brown sugar and spices. Add to the skillet, stirring often.
Add the cubed peaches and sauté them in the butter/brown sugar mixture until soft.
Set aside to cool.
Crumble Directions: 
Preheat oven to 350 degrees.  Line cookie sheet with parchment paper
Combine all dry ingredients into a bowl.
Add cubed butter and working it in with your fingers until it looks like small peas.
Bake at 350 degrees for 30 minutes.
Remove from oven and allow to completely cool.
Layering in a mason jar:
Add a layer of crumble pressing it down with the back of a spoon.
Second layer… add a large spoonful of cooled peaches.  Press down into the crumble.
Layer another spoonful of crumble on top of the peaches.  With a spoon press down the crumbles
Add the last layer…Spoon the peaches on top of the crumble.
Top with lite ice cream or Cool Whip topping.
Drizzle with caramel sauce.