I used to laugh at those people who said, "Oh I forgot to eat all day." Because I love to eat. I would eat all the time. Then I had 4 kids, took care of a house and started working from home. See when I am not traveling, I am running. Not actually running, like enjoying the Fall leaves at the park, training for a 5K kind of running. I am running errands, taking my son to and from his work, which costs me 2 hours a day. I am running my daughter to cheerleading. Running my kindergartner to the bus stop. Running my other son to band practice. Running to the store to get ingredients for a recipe post. Then between it all, I work. And clean, but mostly work. I think you get the point.
So this kind of of schedule has pushed me into the "I forgot to eat" category. There are times that I think about eating, say I will go make it in a few minutes after I finish editing this picture, finish typing this sentence, after I answer this email. Then I get busy and decide I don't want to take that kind of time away from the amount of time I have to work and I forget.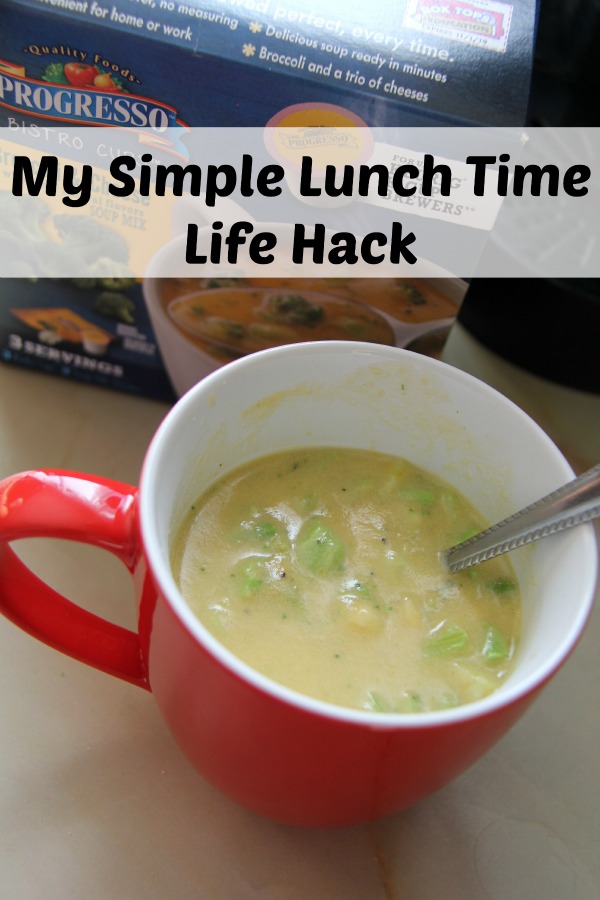 Now, because lunch can be done in minutes and requires no effort from me at all. I remember to eat. Progresso Soup Bistro Cups has made my life simple. Like take out, in my kitchen. Life Hack Score, right there. See, I love soup. I mean, I think I could live on soup. I am that person who actually gets soup at a restaurant, and not just as a side. I have stopped going to or ordering from places because they don't have soup or it isn't very good. Whether I want  Tomato Parmesan, Broccoli & Cheese or Creamy Southwestern, I can have soup every day, in the time it takes to make a cup of coffee in my Keurig.
My Simple Lunch Time Life Hack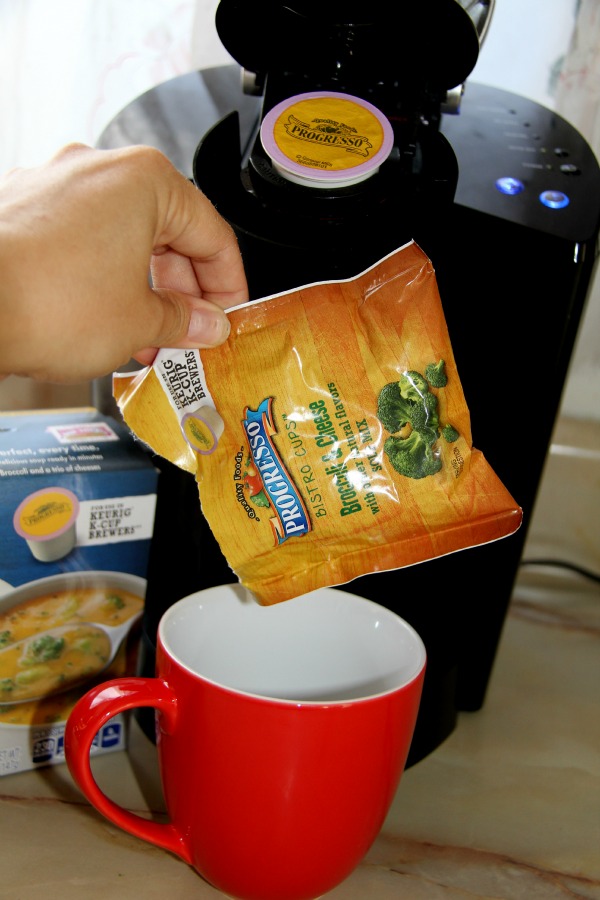 The New Brew makes it easy to make lunch. My Keurig is usually on anyway, but if not, start up your single serve coffee pot.
Pop on of the soup flavors into the holder.
Pour the soup in the cup.
Run the Keurig through a cycle.
TADA! Soup. A perfect lunch.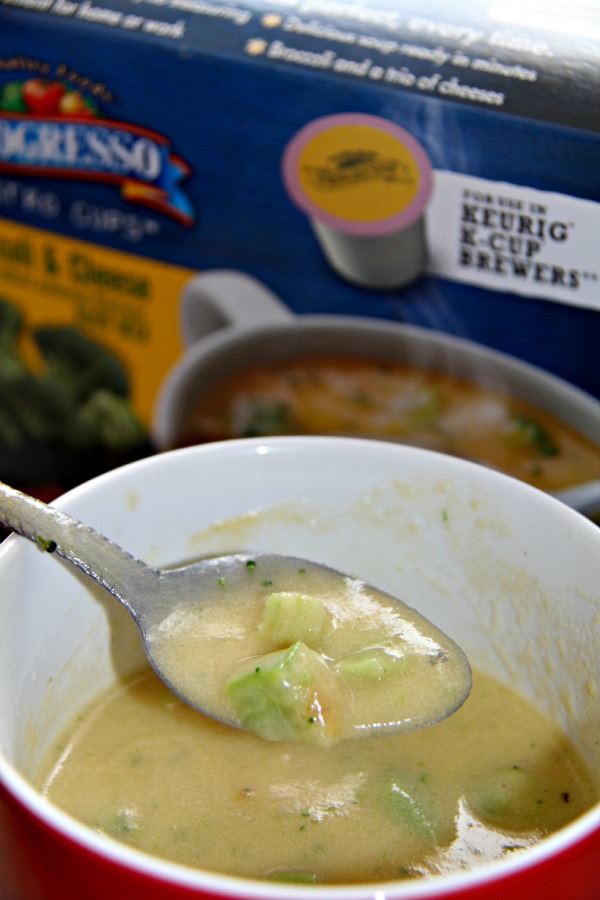 Maybe if I feel like I have time to spare, I will make a grilled cheese at the same time. But you know, let's not get crazy. Well…. soup and grilled cheese. Ok, maybe I do need to do that.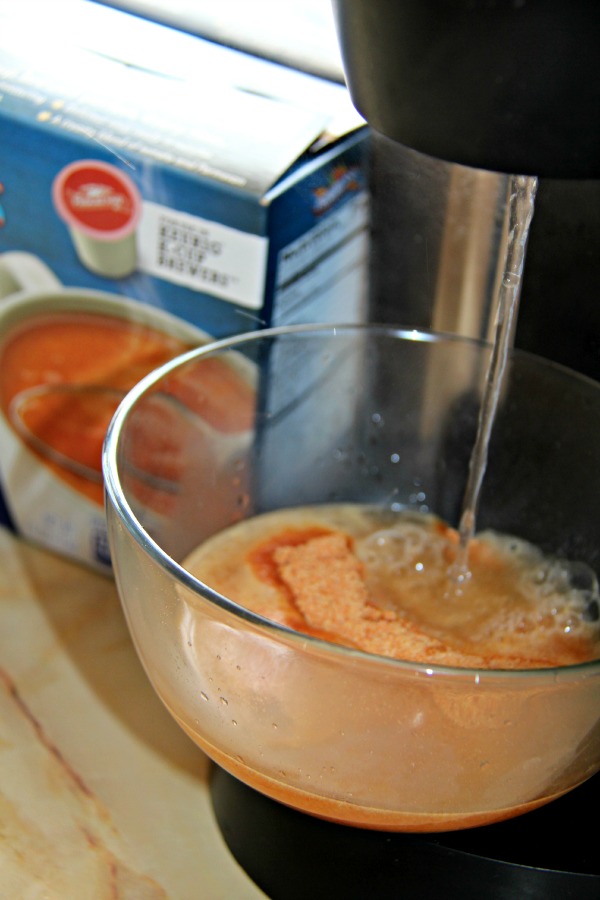 Bistro Cups makes getting your lunch on super simple. It is also great for feeding the kids. They can come home from school and get soup all on their own. They can also grab some soup as we are rushing out the door to head to practice, work or just to run errands.
One last way to use The New Brew to make your life easier. Have you been in a hotel lately? Almost all of them have some kind of single serve coffee maker in the room. The Bistro cups are small and easy to carry with you. Use them to save money and time on your next vacation by bringing dinner with you.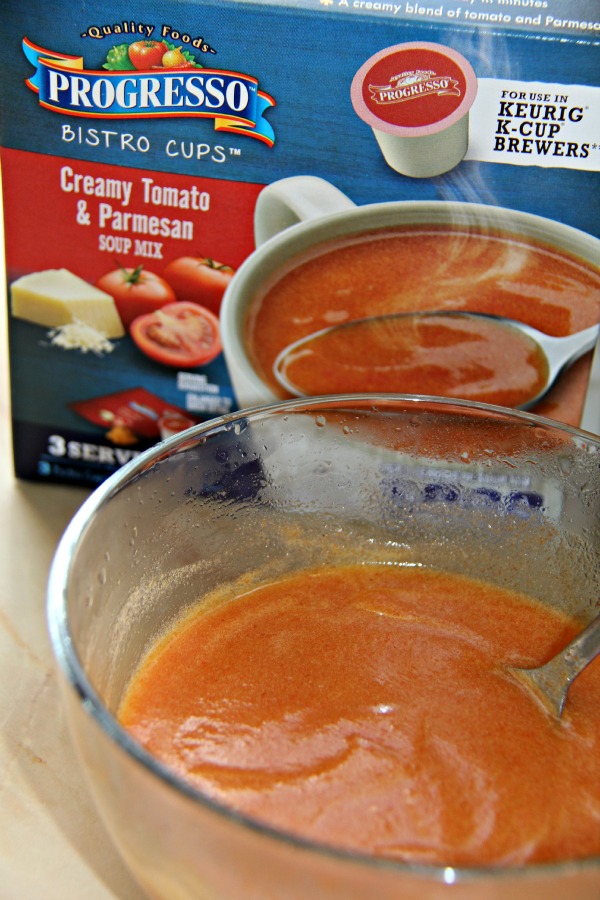 Save even more money by grabbing this $2 off Progresso Soup coupon so that you can Brew Your Soup.