My kids and I love cupcakes. We are always looking for new cupcake recipes. We tend to create new ones for different seasons. I prefer cupcakes over cakes because they are easier to eat, are like little individual cakes and make it easy to portion. They just work out perfectly. I can also take them with us as a treat a little easier than I could a cake. No one can eat a cake in the car. Well, I guess maybe they could, but you know what I mean. These cute easy Spring cupcakes are based off the basic vanilla cupcake recipe and vanilla buttercream icing recipe from Martha Stewart, both of which are just the basic base for both.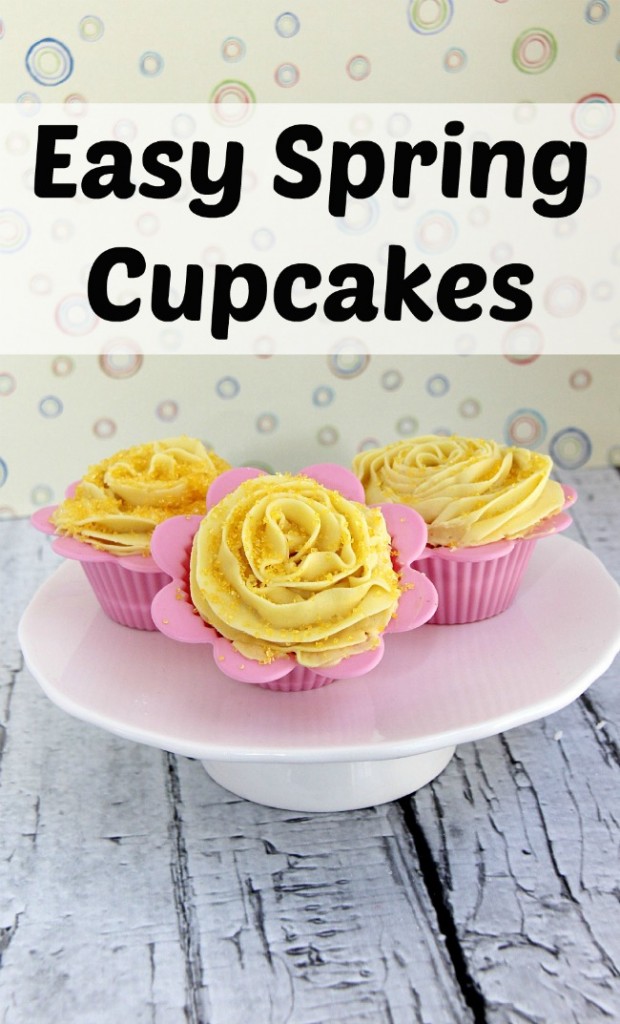 For these cupcakes, once you have made the cupcakes and the icing, you will want to color the icing yellow. Do this by slowly adding in yellow food coloring once you have made the icing. Always add color in slowly. You can always add more color, you can not take it away. After frosting the cupcakes, sprinkle yellow sanding sugar over the cupcakes.
Easy Spring Cupcakes
Ingredients
3 cups all-purpose flour
2 teaspoons baking powder
1 teaspoon salt
2 sticks butter
2 cups sugar
6 eggs
2 teaspoons vanilla extract
1 1/2 cups milk
Directions
Preheat the oven to 350 degrees. Prepare 2 cupcake pans with either paper liners or greased.
In a medium bowl, sift together the flour, baking powder, and salt.
In a large mixing bowl, cream the butter and sugar until fluffy. Beat in the eggs, one at a time, until combined, scraping the bowl down between each egg. Add vanilla.
Add half of the flour mixture. Combine thoroughly. Add in the milk and combine thoroughly. Then add the other half of the flour mixture.
Add the cake batter to the muffin tins, filling each one 3/4 of the way full.
Bake for 20 minutes, until a toothpick inserted into the center comes out clean. Cool completely before frosting.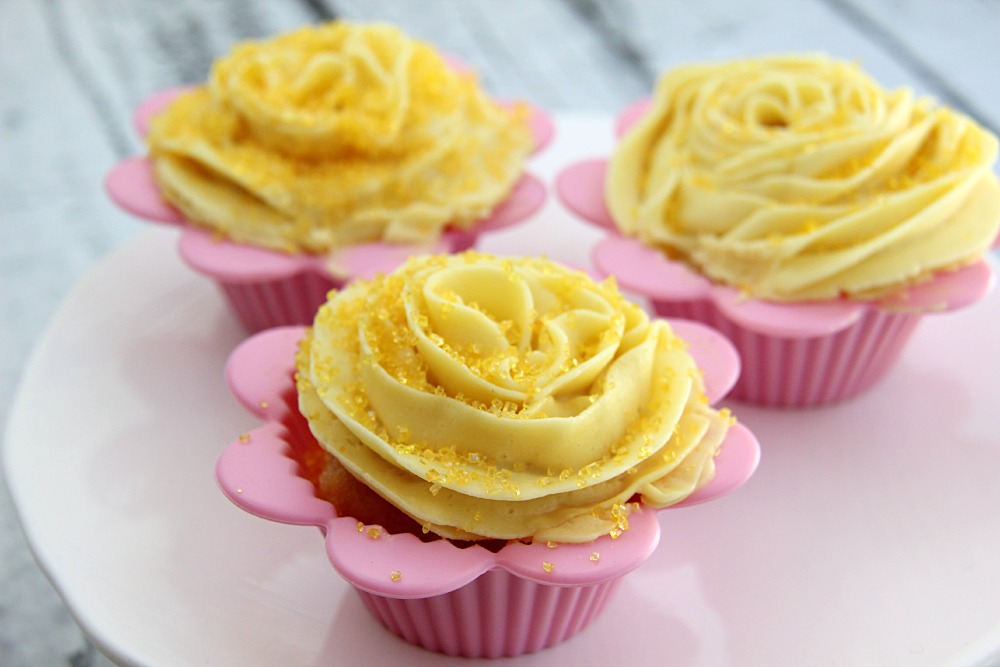 Basic Vanilla Buttercream
Ingredients
1 cup (2 sticks) unsalted butter, room temperature
6 to 8 cups confectioners' sugar
1/2 cup milk
1 teaspoon pure vanilla extract
Directions
In a mixing bowl, cream the butter until creamy and no lumps, about 2-3 minutes. On low, add 6 cups of powdered sugar, milk and vanilla and beat until creamy.
If you need the icing to be thicker, add in up to 2 cups of sugar. If icing is too thick, you can add in milk, 1 tablespoon at a time, to thin it.