Caramel Apple Bread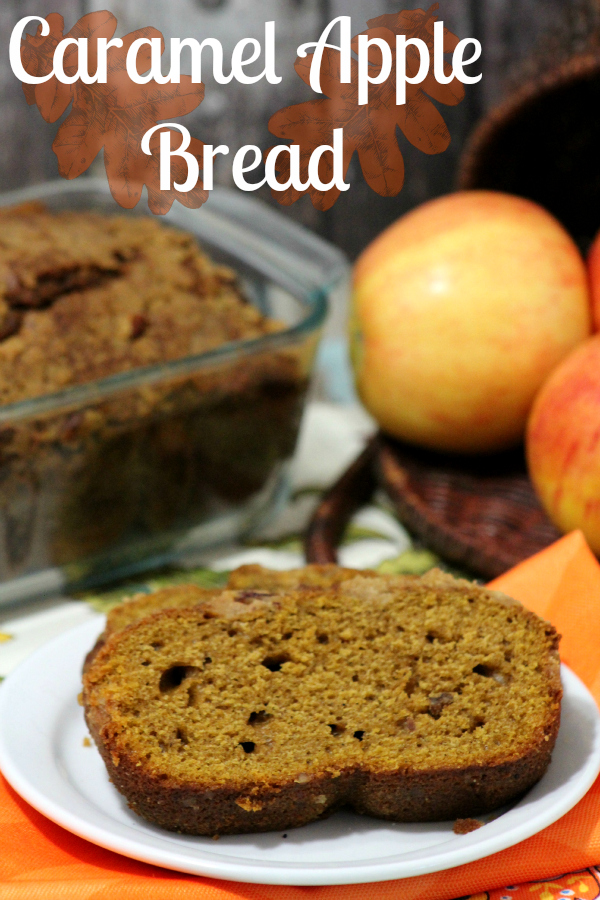 The holidays are officially upon us; you can't hide from them any longer. From now until the end of the year there will be countless reasons to celebrate and you will likely find yourself in a situation of gift giving more often than you can count. This recipe for Carmel Apple Bread is not only a delicious treat for you and your family; it also makes a fantastic homemade gift for all the parties and visitors you will find yourself entertaining over the next few months! You could easily double this recipe to make one loaf to keep at home and one loaf to give away. Fall is the perfect time to pick some fresh local apples as well! Make a fun family outing to a local orchard and watch your apples go from tree to table in this yummy caramel apple bread recipe.
Bread Ingredients:
2 C flour
1/2 baking soda
2 tsp baking powder
1/2 tsp fine salt
3/4 tsp apple pie spice
1/2 C sugar
1/2 C packed dark brown sugar
8 ounces Greek yogurt
2 eggs, room temp
2 tsp vanilla
1 1/2 C tart green apples, chopped into small pieces
1/2 C unsalted butter, cubed
Topping Ingredients:
1/2 C unsalted butter, room temp
1/2 C packed brown sugar
1 TBSP heavy cream
Bread Directions: 
Preheat oven to 350 degrees. Prep loaf pan with baking spray.
Add together the flour, baking soda, and baking powder, salt and apple pie spice in a bowl.
Stir in sugar, brown sugar, Greek yogurt, eggs, and vanilla.  Stir till well blended.
Add the wet ingredients to the dry ingredients, mixing well.
Add the chopped apples.
Spoon the batter into the prepped loaf pan.
Bake at 350 degrees for 50 minutes or until an inserted toothpick comes out clean.
Cool in the loaf pan for 10-15 minutes.
Remove from pan and allow to cool completely on a wire rack.
Topping Directions: 
In a double boiler, add the butter, brown sugar, and heavy cream together until it reaches a boil.
Continue to boil for 1 minute.
While still hot drizzle on the caramel apple bread