If you're not aware yet, Ant-Man opens in theaters everywhere on Friday, July 17! Who is is as excited as I am?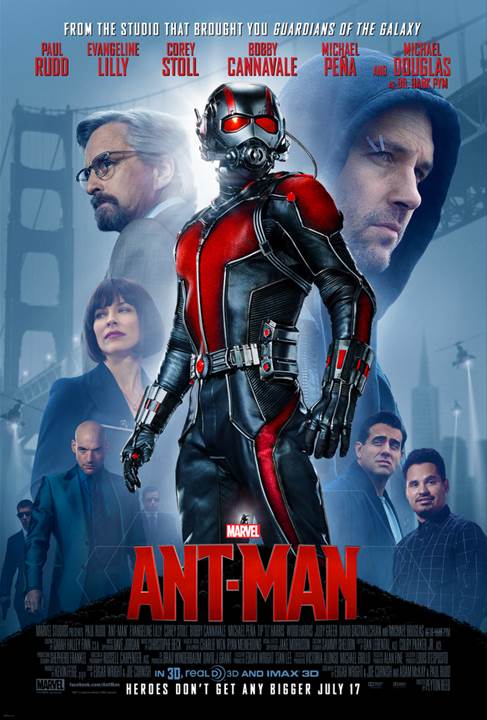 Are you planning on seeing the movie when it breaks. Well, did you know?
TheAnt-Man suit is pretty cool.  It encapsulates the Pym Particle technology that allows a person to shrink down to the size of an ant. So, when the wearer wants to change size, he just uses the button on the suit that regulates the Pym Particles, which run through the suit and helmet like an intricate system of veins. The particles are volatile and change the distance between atoms, so the suit and helmet serve as protection for the wearer. So while Ant-Man does not actually have any super powers, when he shrinks, he is stronger than a normal person because energy and mass compacted create a more powerful force.
In the movie, the bad guy's heavily armored Yellowjacket suit can withstand bullets. It also has articulating arms that can shoot plasma rays, and it incorporates sensors and infrared vision. Like the Ant-Man suit, the Yellowjacket suit has the shrinking technology built in.
For the scaled-down Ant-Man sequences, the filmmakers used a combination of motion-picture macro photography, still macro photography, motion capture with the actors, motion capture with the stunt people, and for every set they built miniature sets, called macro sets. Macro photography is extreme close-up photography that produces photographs of small items larger than life-size.
When you watch Marvel's "Ant-Man," be sure to look closely at some of the set dressing in Hank Pym's house. There's a little chair or a tiny weapon or other miniature everyday items. There are items placed all around the house that hint at the adventures Pym had when he was Ant-Man and suggest the experiments that he made shrinking inorganic objects before he made the breakthrough to shrinking organic objects.
In the spirit of shooting everything in miniature, the macro photography team built a mini clapperboard, the device filmmakers use to help synchronize picture and sound.Too cool, right? Originally made of wood and handwritten on with chalk, clapperboards now have digital features, but the one for the macro sets was of the old-fashioned variety
Now check out this cool featurette and Don't forget, ANT-MAN opens in theaters everywhere this Friday, July 17th!
For more fun facts and more info on Ant-Man follow along on social media!
Like ANT-MAN on Facebook: https://www.facebook.com/antman
Follow ANT-MAN on Twitter: https://twitter.com/antman
Visit the official ANT-MAN site: http://marvel.com/antman