This is the perfect drink for a Halloween or for a fun party. Whether you are talking princesses or evil queens, this Poison Apple Cider is going to be a perfect addition.
It is simple to make, can be altered to make a more adult drink or left alone so that the kids can enjoy it it too.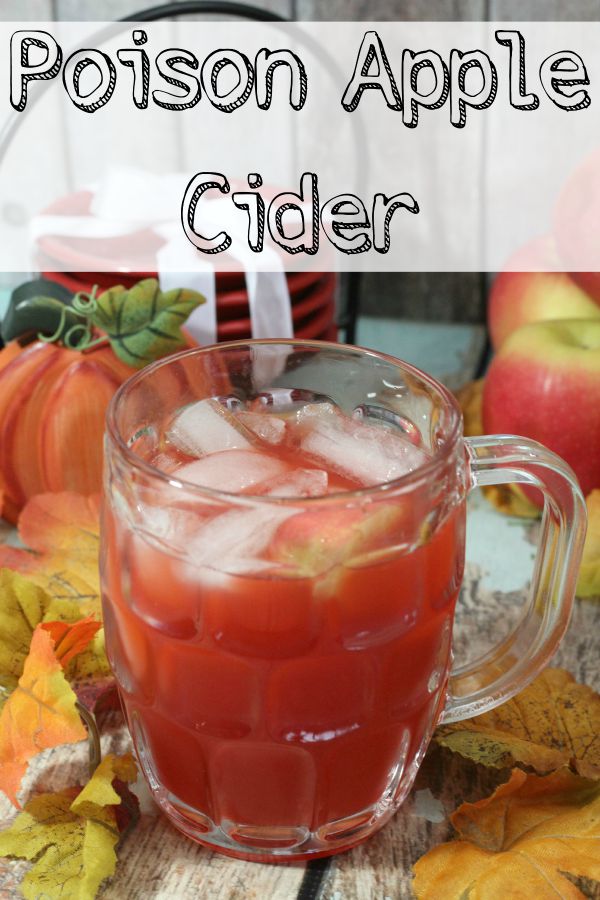 Cider Ingredients:
12  assorted  small-medium apples
1 small orange
1 C brown sugar
2 tsp ground cinnamon
2-3 tsp nutmeg
1/8 tsp ground cloves
water to cover
Cider Directions:
-Wash and chop whole apples and orange (no need to remove peels, seeds, or stems)
-Put all into a large pot. Add spices.
-Cover with water bringing to a boil. Continue to boil uncovered for 1 hour.
-Cover.  Simmering for 2 hours.
-Using a potato masher roughly mash all ingredients.
-Continue to simmer until cider is dark tasting sweet and spicy. Allow to cool.
-Strain everything into a large pot.
Store in a refrigerator.
Poison Apple
Poison Apple Ingredients:
4 oz apple cider
4 oz Cranberry juice
Ice
Poison Apple Directions:
-Pour apple cider and ginger ale into a pitcher. Stir to combine.
-Add ice to a glass.
-Pour apple cider and cranberry juice combination into the glass.