I have been dreaming of Spring and Summer for the past few days. I haven't been able to get out much because we have been having snow and bitter cold. I am ready to get my flowers planted in the garden, hike in the woods and just see everything green again. While trying to figure out what flowers I want to plant in my garden this Spring, I can across some of the coolest, and weirdest flowers. I am thinking that some of these will be perfect additions this year, while, others I think, will just be ones that I look at on my computer.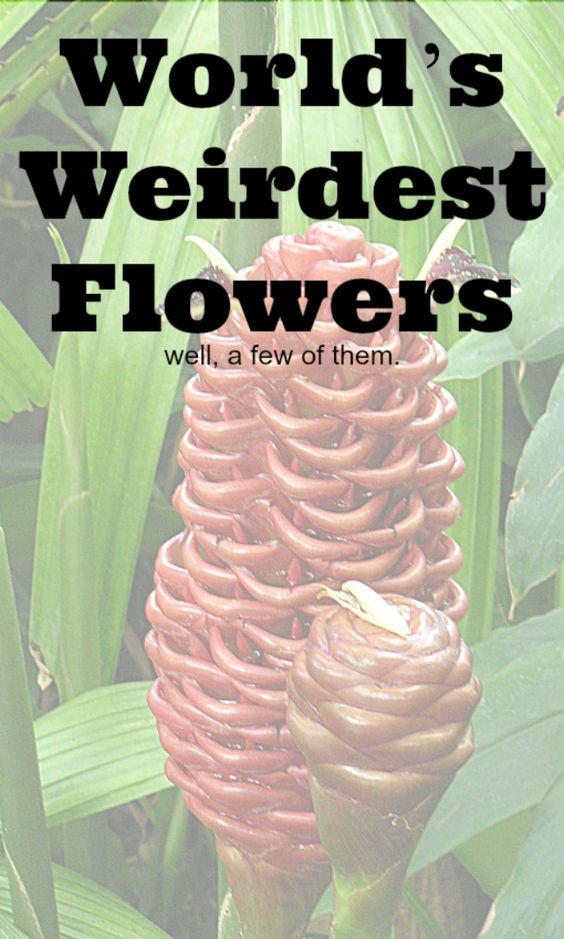 Monkey Face Orchid (Dracula simia)
Look at that face. The 2 dark eyes and a fuzzy dotted eyebrows, furry nose and beard has a striking monkey look that most people can spot even from a distance.  The Monkey Face Orchid is an oddity. When found in the wild, the Money Face Orchid is only found in the cloud forest of Peru and in southeastern Ecuador at an altitude of more 3,000 feet. Smelling like ripe oranges, the Monkey Face Orchid blooms all year round and thrives in warm weather. Some of these rare orchids grow large, down-turned pointy petals and others produce smaller fuzzier flowers.
Passion Flower (Passiflora)
There are over 500 different varieties of the Passion Flowers. This species looks like a sea anemones. The Passion Flower produces an amazing scent. It is often used for homeopathic remedies to help with insomnia and anxiety. It is also a great food source for caterpillars and butterflies and is regularly grown on butterfly farms.
Corpse lily (Amorphophallus titanum)
The Corpse Flower is a unique one. This monster of a flower can grow up to 12 feet tall and can weigh up to 200 pounds. It blooms so rarely that when it does, it often makes local news and sometimes even global headlines. It gets its name because the scent it gives off is reminiscent of a decomposing body. The scent is to attract insects for pollination.
Lithops Weberi (Lithops comptonii)
Know someone who says they can not have flowers or house plants because they forget to water them and they kill every plant they have. This is the plant they need. Lithops are small succulents from South Africa and is essentially a drought-proof plant. Also known as a Living Stone, Lithops start off with only 2 leaves. Every year, the old leaves die, fall off and the moisture that is inside the leaves is used to grow a new pair. Each year the leaves doubles and this goes on as long as the plant blooms. Want to grow more Living Stones? Take one of the leaves and add it to a rock bed. It will take roots and start to grow. When Lithrops bloom it looks like a white or yellow daisy is growing out of a stone.
The Dragon's Skull

You think your neighbor has tiny shrunken heads in their garden? Nope! they are just the seed pods from snap dragons. Many people know snap dragons as the beautiful flowers that you can squeeze at the base and they open and close like a dragon's mouth. These way cool looking skulls is what is left behind once the seed pods have dried up.
Beehive Ginger (Zingiber spectabile)
The Beehive Ginger looks like it might be part of the pine cone family but it is actually related to the ginger plant family. The bracts, the little cups or honeycombs, of the plant will collect water and makes it smell like ginger. Tiny white flowers come out from between the bracts and look like tiny honeybees sitting on the honey comb. The bracts turn from a pretty yellow and gold to red. The cut flowers and bracts of the Beehive Ginger are sought after because they last for a long time after being cut. These plants take up a lot of room and can grow to be up to 6 feet.
There are many other crazy looking and weird plants and flowers from around the world. It is one of the things that makes traveling and visiting other locations so amazing.
Yum