I have always loved those cute little towns. The ones that where people walk streets, shopping and duck into little coffee shops.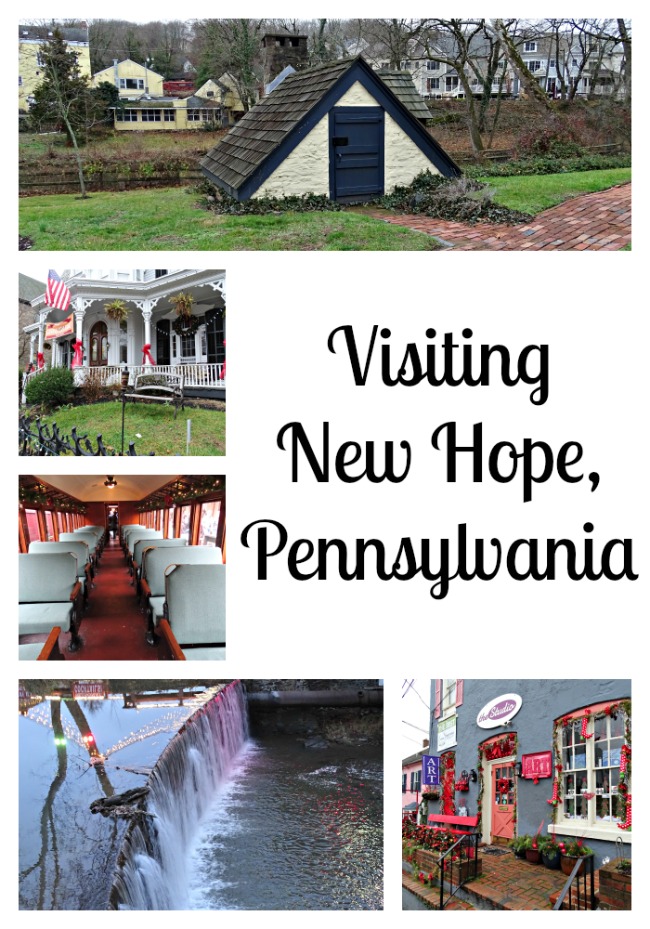 New Hope, located in Bucks County, Pennsylvania, right across from the New Jersey border, is exactly one of those towns. New Hope is a charming , little historic town on the Delaware River. It has grown over the years as one of the East Coast's  best-loved getaway location. New Hope is filled with antique shops, restaurants, B&Bs and over 200 arts and crafts galleries. Many people come out to New Hope to shop while visiting another popular destination, Peddler's Village.
Besides the fantastic food and unique shops, there is also a train ride that starts off at the New Hope station and rides out to Lahaska and back again. The trains were constructed between 1913- 1920 for the Reading Company and they still feature all of the original mahogany woodwork. The train originally ran out to Reading Terminal Market. In 60's, a passenger could get a ticket for the train, a play at the Bucks County Playhouse, which still stands, and refreshments for only $6.
As the train heads out, there is beautiful scenery to see and the train conductor gives information about the area and what happened in different places. There are farms and areas that have been there from when New hope was first started. There are areas that were part of the Underground Railroad in 1844. It is an entertaining ride and is well worth adding as part of a visit to New Hope.
There are great places to grab something to eat while in New Hope. There are a lot of restaurants and little pubs that make a great place to eat as a couple or as a family.
There are also lots of great sites to see. New Hope is full of history and there are plaques and monuments around the town to see.
Stop by the bridge that over looks the river, by the playhouse. The view is gorgeous.
Be sure to give yourself a lot of time to look through all of the stores. There are a lot of small stores that have eclectic trinkets and vintage pieces that would make a collector happy. My son and I are obsessed with the Nightmare before Christmas.  There are stores that carry pieces that are from the movie's release in 1993. We were also able to find vintage Marilyn Monroe pieces. No matter what you collect, chance are, one of the stores will carry it.
If you are in Pennsylvania or even western New Jersey, New Hope should be on your places to visit.
Yum