When we travel, I love to take in some of the culture of the area. I love being able to see the museums that the area has to offer. While I know that most museums survive on the admission price that they charge, it doesn't mean that is always in my budget. More places than you might think offer free museum admission for you and the kids to enjoy. Some are always free, some are free on certain days and at certain times. Even when you can only go at certain times, you can plan your trip and adventure around the free admission.
If you are taking the kids to New York City and want to take them to museums, especially ones designed for kids, you have a lot of choices.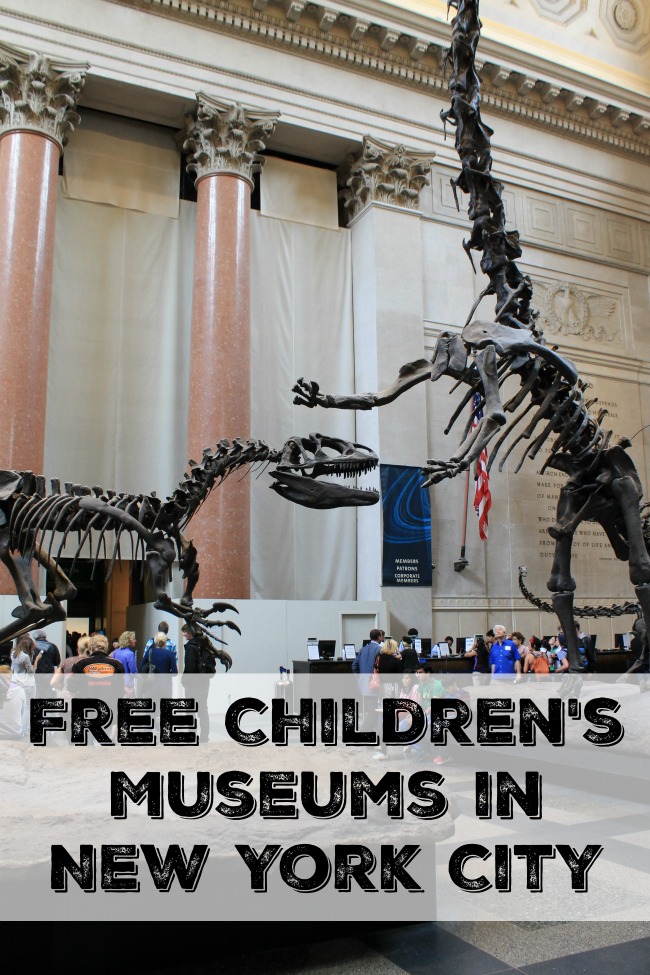 Free Children's Museums in New York City
Queens County Farm Museum- This museum is always free, although sometimes it does have events that require a ticket. Kids can check out a working farm, the old farm buildings and see the live stock, such as pig, hens and goats. There is also an orchard to walk through. During the month of October, you can purchase apples from the Orchard.
Queens Botanical Garden-  Free during the off season, November through March. The gardens are closed on Monday.
American Museum of Natural History- Always a pay as much as you want. While there is a suggested donation, which helps support the museum and its programs, the museum is pay what you want.
Brooklyn Children's Museum- Free Thursday 2-6pm. This museum has around 30,000 artifacts and objects, including some live ones, that encourage hand on learning. For children who are under 5, there is a section dedicated to them called Totally Tots.
Waterfront Museum and Showboat Barge- Free Thursdays 4-8pm and Saturdays 1-5pm. The wooden barge is moored down close to Fairway Market, at Brooklyn's Red Hook. While it is free at these times to visit, check first to see is there is a performance taking place that might cost.
DiMenna Children's History Museum Fridays from 6-8pm are pay what you wish. This is a museum inside of a museum that is located on the lower level of the New York Historical Society. Perfect for school age kids, there are interactive exhibits, hands on activities, special displays and a library for children.
Museum of the Moving Image- Free for kids under 3 and free Fridays 4-8pm. This is the country's biggest collection of moving-image artifacts. An interactive experience for the visitors that features different aspects of movies, tv shows, including digital media.
New York Hall of Science- Free Fridays 2-5pm and Sundays 10-11am. The NY Hall of Science has over 450 exhibits that offer a hands on experience for kids in science and technology. Be sure to have the kids check out the 60,000 sq foot science playground.
Children's Museum of Manhattan- Free the first Friday of the month 5-8pm. Kids will love the exhibits at this museum. With lots of ways to keep kids captivated, the kids will love the cartoons and workshops.
Photo Source
Yum