Valentine's Day is right around the corner. Chocolate covered anything is one of the first things that people tell me they think of when they are thinking of a perfect dessert for Valentine's Day. Me? I think chocolate covered anything is perfect for, well, anytime. Just bring on the chocolate. This Chocolate Cherry Cupcake Recipe just reminds me of chocolate covered cherries and is a great Valentine's Day dessert idea or just for celebrating the end of a long day.
The idea behind these cupcakes is simple. It is a basic chocolate cupcake recipe with an amazing cherry filling. While it sounds complicated, the recipe itself could not be easier and it will make everyone who eats it think you are the cupcake queen, or king.  Try making this special cupcake recipe for your next dessert, get together or just because.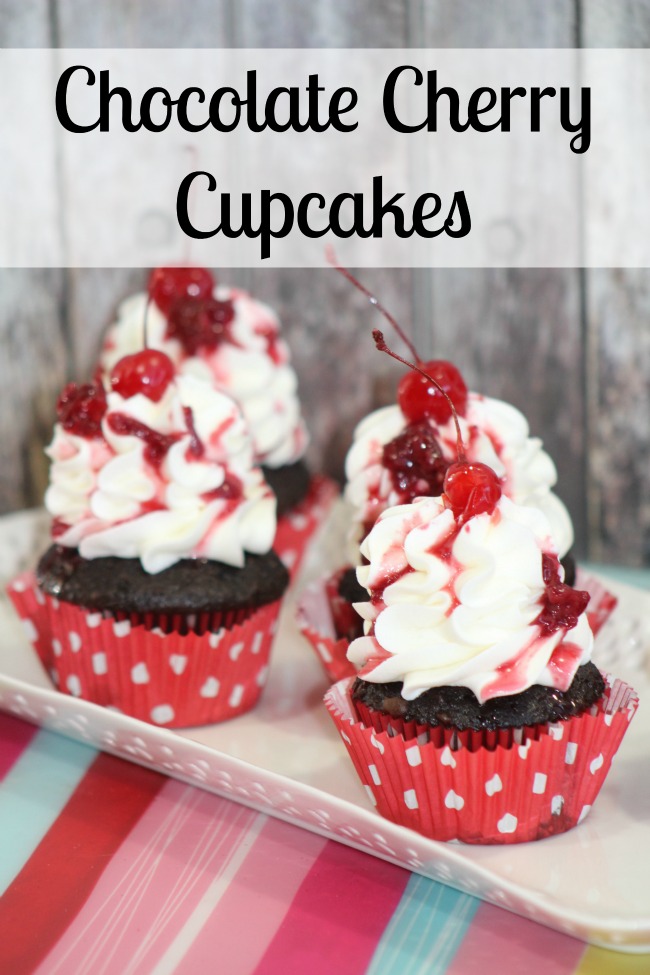 Chocolate Cupcake Ingredients:

1 3/4 C Flour
2 C Sugar
1 C   Cocoa
1 1/2 TSP Baking Soda
1 1/2 TSP Baking Powder
1 TSP Salt
2 Eggs
1 C Whole Milk
1/2 C  Oil
2 TSP Vanilla
1 C Boiling Water
Cherry Filling Ingredients:
10 oz. jar maraschino cherries, chopped
1/2 C maraschino cherry liquid
2 TBSP corn starch
1/3 C sugar
1 TBSP unsalted butter
Chocolate Cupcake Directions:
-Line the cupcake tins with paper liners. Preheat oven to 350 degrees.
-Mix the flour, sugar, cocoa, baking soda, baking powder, and salt in a bowl.
-In a separate bowl add the eggs, whole milk, oil, and vanilla.
-Add the bowl containing the eggs, whole milk, oil, and vanilla to the bowl holding the dry ingredients.
-Mix all together until fully incorporated.
-Beat for 3 minutes on medium.
-Slowly add the boiling water starting with a small amount then pour in the remaining boiling water.
-The batter may be a little runny.
-Scoop batter into cupcake lined cups until 3/4s filled.
-Bake at 350 degrees for 20-25 minutes.
-Remove from oven and allow to cool for 10 minutes.
-Using a teaspoon make a small well in the center of each cupcake. (Don't poke the hole through the bottom of the cupcakes)
-Fill each small well with the cherry filling. (Don't overfill.  The filling should not overflow from the top of the cupcake.)
Cherry Filling Directions:
-Combine sugar and corn starch in a saucepan .
-Gradually add in cherry liquid, stirring to dissolve sugar.
-Add cherries, stirring to combine.
-Cook on medium heat until it comes to a boil then begins to thicken.
-Remove from the stove stir in butter.
-Set aside to cool.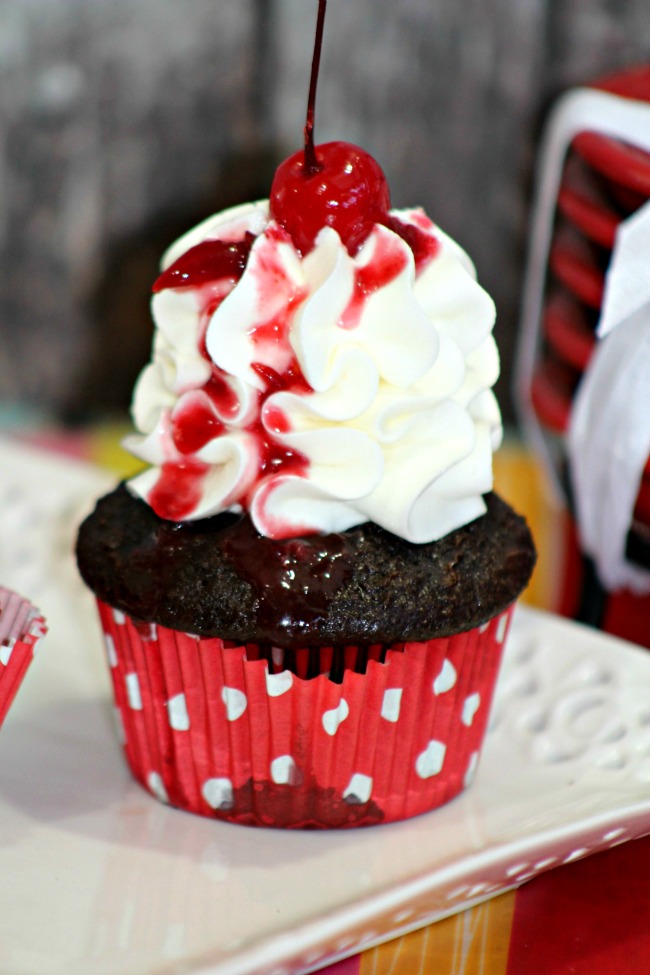 Yum