Visiting Ireland is very high on my travel bucket list. Both my fiance and I are both Irish and we have a love of castles. So to be able to see the castles in Ireland is a must.  To be able to go an explore and see everything, I can not put it into words. I am awe struck just thinking about the architecture and the history that surrounds the ancient  castles. So I pretty much stalk and plan what castles I will end up visiting once I get the chance to go to Ireland.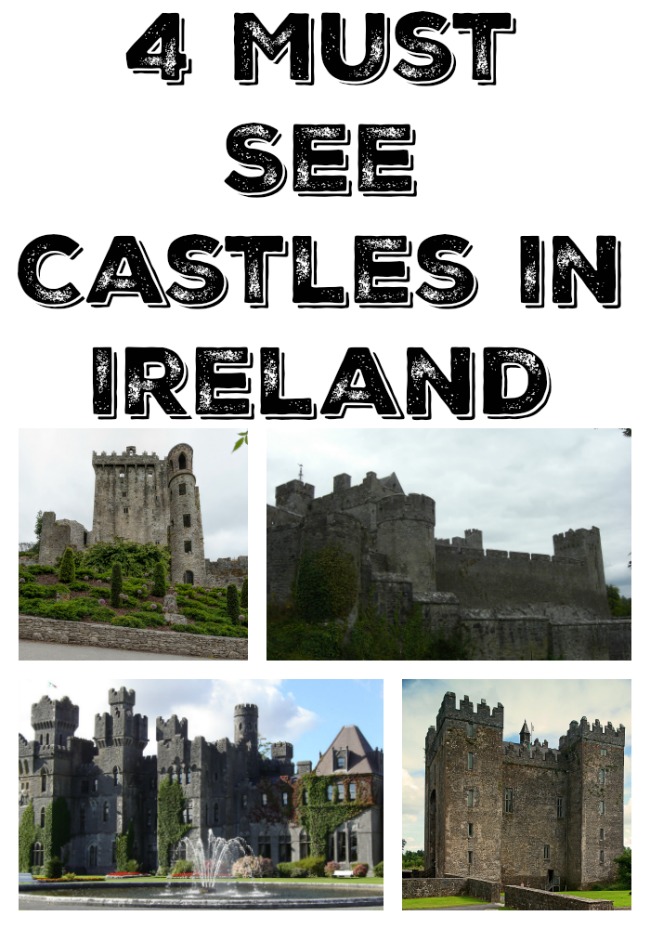 Ashford Castle
Want to stay in an 800 year old castle without the feel of an 800 year old castle. Then Ashford Castle is what you want. Owned by the Guinness family, it was kept in spectacular condition. It has since been converted into a 5-star luxury hotel where you can reserve a stay.
Bunratty Castle
Bunratty Catles is part of Folk Park, which used to be part of an ancient Viking trading camp back in 970 A.D. Over the years, with violent shifts between Irish chieftans and English kings, the castle itself has had to be rebuilt 4 times. These days, the castle is known for being the best place to enjoy a traditional medieval feast. At a banquet, women are dressed in medieval gowns and you are served hunks of pork, potato soup, breads and don't forget the goblets of mulled mead. You'll eat by candlelight, just like the ancient kings.
Cahir Castle
While most of Ireland's castles are crumbling from age, Cahir Castle is not facing this fate. Cahir Castle is one of Ireland's largest and best preserved castles. Constructed in 1142 it was help by the Butler family. It is situated on an island in south central Ireland.
Blarney Castle
Blarney Castle was built nearly 600 years ago by Cormac MacCarthy, one of the greatest chieftans. It is known as one of the greatest treasures and for the the last few hundred years, millions have flocked to Blarney Castle.  You have heard of the Blarney stone, right? It features the Blarney stone, the legendary Stone of Eloquence, which is found at the top of the tower. Legend says, kiss the Blarney stone and you'll never be lost for words again.
Yum